Be Audit You Can Be: Auditing in a Virtual World
Published on

Oct 1, 2020

by

User Not Found
Last week's event, Go Figure: Data Analytics in a Virtual World fireside chat, combined speakers from different backgrounds and delivered an overview of the analytical processes that businesses use, and the things students should learn before joining a company. Our officer team and panelists welcomed the audience with an early winter atmosphere by sharing fireside Zoom backgrounds.

We heard from Dr. Paul Pavlou of the University of Houston Bauer College of Business who shed light on creating relationships and finding value in the college's analytical courses. Additionally, our "interesting fact" came when Carolyn Newman of Audimation Services gave insight into how businesses are going to be sluggish when it comes to fully relying on data analytics to drive decisions because of their reluctance to take on risk. On the other hand, Daron Houston of EY used his technical knowledge to share how he uncovers fraud.

Speaking of crime-busting: our next event, Be Audit You Can Be: Audit in a Virtual World is happening on October 9!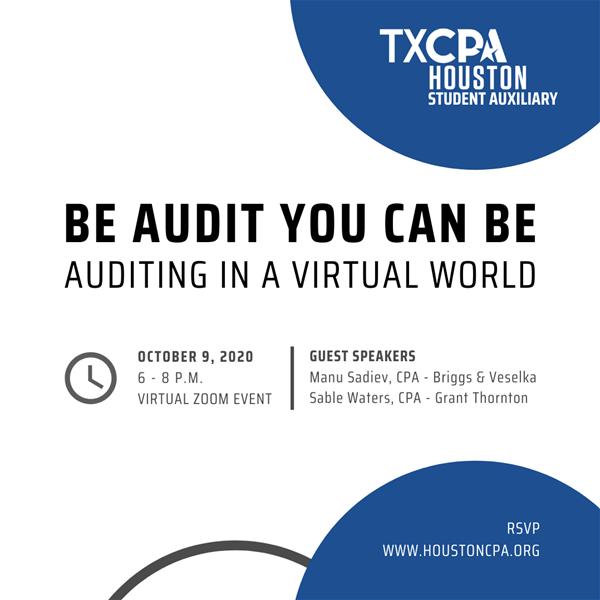 Are you considering a career in audit? What does the audit career path look like? Join us at our next Student Auxiliary hosted event, Be Audit You Can Be: Auditing in a Virtual World on October 9 at 6 p.m. as audit professionals Manu Sadiev, CPA, Senior Manager (Briggs & Veselka) and Sable Waters, CPA, Partner (Grant Thornton) share their secrets, stories, and answers! Register here.

Upcoming Student Auxiliary hosted events

October 30 - Deep in the Heart of Taxes - Tax in a Virtual World - Register here

Invite others in your company to see your future employees and leaders in action!

If you would like to participate as a panelist or discussion leader in a future event, contact Carol Spencer at cspencer@houstoncpa.org.