Giving Tuesday – December 1 and Your Year-End Giving Options
Published on

Nov 30, 2020

by

User Not Found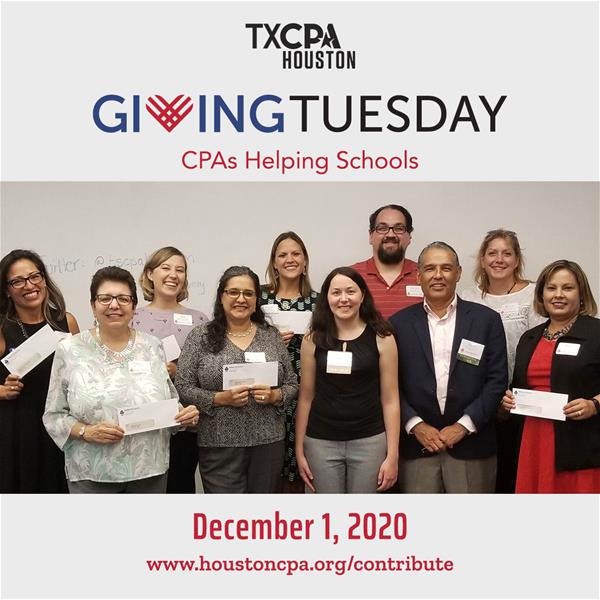 You have an opportunity to support the Houston TXCPA Foundation's two charitable entities before year-end. No gift is too small for CPAs Helping Schools or our Accounting Scholarship Fund.
Many of our accounting scholarship recipients are first-generation college students. Most cannot rely on financial assistance from their families, and that will be as true, if not more so in 2021. Due to the pandemic, many workers remain out-of-work due to hotel, restaurant, and other service industry closures and downsizing. Your support is critical during this time. The $3,500 scholarship for a student to complete their 150 required hours is critical to the future CPA who becomes your employee, team member, or employer in a few years.
Most local public schools offer virtual learning to keep your family and the educational community healthy. Virtual learning does not negate the need for materials and programs to aid those at-risk students that the CPAs Helping Schools grant program supports. Educators are using available resources to keep PreK-12 students engaged in learning and helping them focus on their secondary education and potential careers, both the students on campus or learning from home.
$472 provides 258 PreK students with the materials for introduction to STEM programs, which become critical in their future elementary classes. Students learn counting, primary mathematical concepts, and creative building. These materials remain viable for new students for several years. $1.82 will provide reusable materials to students for at least three years.
$5.95 will put a book into the hands of student in a local junior high. The reading concepts and entertainment factor is heightened by discussing the story with everyone else in the school. Many of these students have never owned a book of their own! This program's cross curricular activities offer insights through math, science, social studies and technology.
PLEASE SUPPORT these initiatives that are so crucial to the future of the accounting profession and the Houston business community.
If you would like to join either of these committees, or you have any questions, contact Membership Manager Carol Spencer at cspencer@houstoncpa.org.