Wolters Kluwer Member Benefits for February 2021
Published on

Feb 10, 2021

by

User Not Found
Take advantage of Wolters Kluwer's valuable industry-leading research and learning products and solutions at a discount rate here. Use these tools to expand your professional development, enhance your knowledge and increase your expertise on tax, accounting, financial and estate planning, audit topics and more.
Savings – The buying power of our association affords you special savings. In addition to local savings, you can also take advantage of savings from TXCPA.
VIRTUAL COFFEE TALK
Cracks in the Crystal Ball: Tax Law Changes to Watch Out For - Tuesday, Feb. 16 from 2-3 pm ET
Industry experts Kevin Jacobs and Joseph Boddicker from Alvarez and Marsal Tax and will identify and discuss potential tax law changes on the horizon and Kevin DeYoung from Wolters Kluwer will show participant where they can find additional answers on the topics covered using CCH AnswerConnect
The Virtual Coffee Talk landing page highlights the upcoming webinar and provides the registration link. It also features all the past Virtual Coffee Talk recordings and presentation slides: Click here to access the Virtual Coffee Talk landing page.
PPP WEBINAR
Paycheck Protection Program (PPP) Updated Legislation: Requirements, SBA Guidance and Tax Implications – Thursday, Feb. 18 from 12-1pm ET:
Wolters Kluwer's Tax and Accounting and Banking Compliance segments have come together to provide this unique event that will offer expert insights from both the tax and commercial lending perspectives on the updated legislation and SBA guidance affecting the PPP program, including discussion of tax implications.
Commercial lending expert Michael Fuchs will provide a status update on the current round of PPP funding
Tax and accounting expert Greg White will walk you through:
key requirements,
the latest SBA guidance,
forms & required documentation, and
tax ramifications of receiving loans and forgiveness under the PPP.
Click here to register.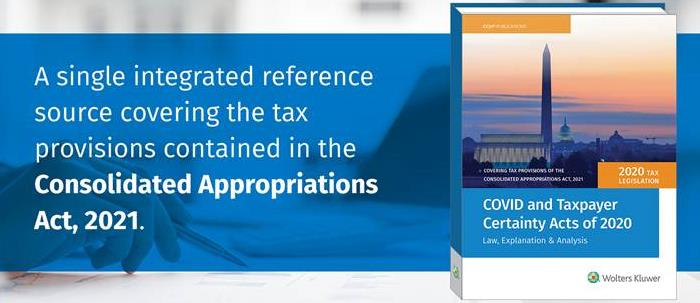 The all-new COVID and Taxpayer Certainty Acts of 2020: Law, Explanation & Analysis provides tax practitioners with a single integrated reference source of the tax provisions contained in the Consolidated Appropriations Act, 2021. Along with Internal Revenue Code provisions, as amended, Wolters Kluwer editors have created a complete practical analysis of this legislation. Click here to learn more.
---
For more information on Wolter Kluwer online classes and products, visit the Wolter Kluwer TXCPA Houston member benefits center.