Wolters Kluwer Member Benefits for March - April 2021
Published on

Mar 4, 2021

by

User Not Found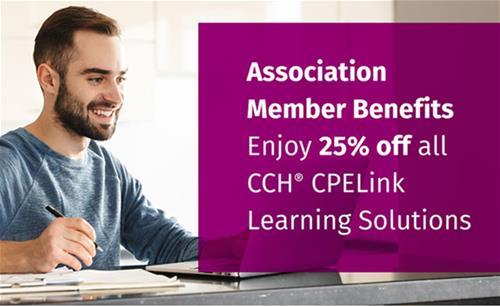 Take advantage of Wolters Kluwer's valuable industry-leading research and learning products and solutions at a discount rate here. Use these tools to expand your professional development, enhance your knowledge and increase your expertise on tax, accounting, financial and estate planning, audit topics and more.
Savings – The buying power of our association affords you special savings. In addition to local savings, you can also take advantage of savings from TXCPA.
LIVE WEBINARS
Creative Grantmaking Strategies for Private Foundations
Tax Checklist for Knotty Divorces
Charitable Remainder Trusts and Preparing Form 5227
Love and Marriage: The "Hard Talk" with Clients Getting Married
Phishing, Vishing, & Smishing: Protecting your Organization from Frauds
Click here to view more!
SELF-STUDY COURSES
Advanced Staff Training: Accepting New Clients & Client Review
Section 1031 Exchanges: Qualification and Tax Reporting
Tax Breaks, Tips, and Updates: Part 1
The New Tax Bill: PPP Deductions, New PPP Loans, EIDLs and Recovery Rebates
C Corporations Update: Lobster Traps, Pots and a Whole New Sea of Opportunity
Obtaining and Understanding Your Client's IRS Account Information
Tax Reform in the 117th Congress
---
For more information on Wolter Kluwer online classes and products, visit the Wolter Kluwer TXCPA Houston member benefits center.