TXCPA Member, Kristen Sayegh, CPA, to be Honored at UHV Virtual Alumni Celebration
Published on

Mar 29, 2021

by

User Not Found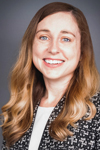 TXCPA Member, Kristen Sayegh, CPA, will receive the 2021 Young Alumnus of the Year Award at UHV Virtual Alumni Celebration on April 9 from noon to 1 p.m.
Kristen graduated in 2009 from UHV with a Bachelor of Business Administration and then in 2011 with a Master of Business Administration. She served on the UHV Student Government Association as the UHV School of Business Administration's undergraduate representative and later as the association's president. In 2009, she was appointed by then-Gov. Rick Perry to serve as the student regent on the UH System Board of Regents. In 2011, she received a Rotary Foundation Ambassadorial Scholarship to study abroad in Hong Kong.
"Being recognized as the Young Alumna of the Year is an honor, and I appreciate the recognition," Kristen said. "I feel grateful to the university for giving me this opportunity. My experiences have positioned me for the better professionally, and I see the benefit of my time at UHV daily. I am better because of my time at UHV."
For more information about the Virtual Alumni Celebration, contact Mudd at 361-570-4869 or muddke@uhv.edu.
Click here
to register for the free event. A link for the event will be sent to each participant after registration.