Wolters Kluwer Member Benefits for April 2021
Published on

Apr 8, 2021

by

User Not Found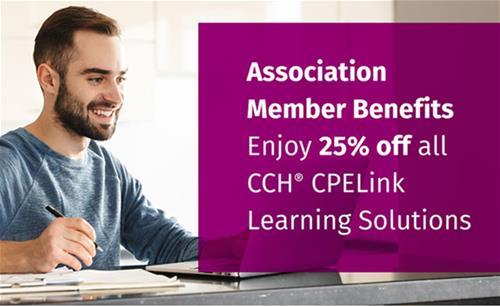 Take advantage of Wolters Kluwer's valuable industry-leading research and learning products and solutions at a discount rate here. Use these tools to expand your professional development, enhance your knowledge and increase your expertise on tax, accounting, financial and estate planning, audit topics and more.
Savings – The buying power of our association affords you special savings. In addition to local savings, you can also take advantage of savings from TXCPA.
TAX SEASON RESOURCE KIT - UPDATED FOR EXTENDED TAX SEASON
Set yourself up for success this tax season with CCH® AnswerConnect's Tax Season Resource Kit. This kit is your go-to for quick reference tools, expert insights and additional resources needed to prepare accurate returns this tax season, including complimentary access to CCH AnswerConnect's premium content until May 17. Here is what's inside:

Free Access to CCH AnswerConnect Until May 17

Free Registration to One CPE‑Accredited Webinar

Paycheck Protection Program (PPP) Resources Library

PPP Estimator Powered by Paychex

Request your free kit here.
LIVE WEBINARS
The American Rescue Plan of 2021: COVID-19 Pandemic Recovery

COVID-19 Stimulus Plans: What You Need to Know

Accounting Standards for CPAs: Spring Update

Tax Implications in a New Remote Work Environment: State Tax Nexus and Income Tax Issues
Principles of Taxation: Ideas and Planning (Full-Day Webinar)

Click here to view more!
SELF-STUDY COURSES
Considering COVID-19 in Financial Statement Disclosures
Everyday Tax Rules: Tax Tips from 38 Years in the Trenches
Payroll Protection Program and Forgiveness Calculation Update
Year-End Accounting and Tax Considerations for Not-for-Profits
You CAN Fix the IRS: Resolving IRS Systemic Problems
---
For more information on Wolter Kluwer online classes and products, visit the Wolter Kluwer TXCPA Houston member benefits center.