Wolters Kluwer Member Benefits for JUNE 2021
Published on

Jun 4, 2021

by

User Not Found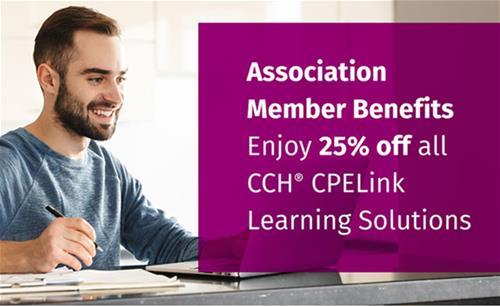 Take advantage of Wolters Kluwer's valuable industry-leading research and learning products and solutions at a discount rate here. Use these tools to expand your professional development, enhance your knowledge and increase your expertise on tax, accounting, financial and estate planning, audit topics and more.
Savings – The buying power of our association affords you special savings. In addition to local savings, you can also take advantage of savings from TXCPA.
Hodgson Russ Summer Webinar Series - June/July 2021
Join your favorite attorneys from Hodgson Russ LLP every Wednesday for a seven week webinar series to discuss the most important New York State tax issues of 2021 in light of the COVID-19 crisis and beyond. Hodgson Russ's experienced tax attorneys will provide insight into some of the most critical tax issues today: the tax impact of COVID-19; state and federal responses to the crisis; business tax updates; New York State law changes; and residency hot topics.
Click here to learn more.
LIVE WEBINARS
Accounting Methods: Crucial Issues Many Tax Pros Are Missing (Full-Day Webinar)

Tax Issues in Corporate Mergers & Acquisitions (Half-Day Webinar)

Form 990:Exempt Organization Fundraising, Donor Acknowledgement, Gifts in Kind, Special Events,Galas

Employee Benefit Plans Update: Accounting Principles & Auditing Considerations

Delivering Effective Feedback for Maximum Employee Growth

Click here to view more!
NEW SELF-STUDY COURSES
Capital Budgeting: Analysis that Improves Long-term ROI
New COVID-19 Frauds and Scams
Thinking and Acting Strategically as CFO
Corporate Finance Principles
Presentation Skills for Finance Professionals and Executives that Make an Impact
Click here
to view more!
---
For more information on Wolter Kluwer online classes and products, visit the Wolter Kluwer TXCPA Houston member benefits center.