Wolters Kluwer Member Benefits for AUGUST 2021
Published on

Aug 6, 2021

by

User Not Found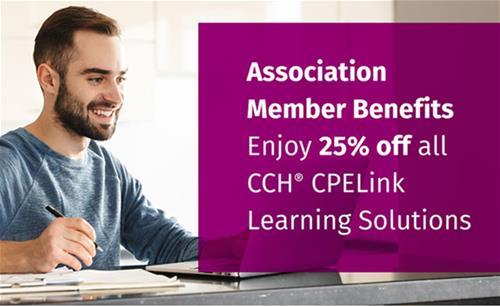 Take advantage of Wolters Kluwer's valuable industry-leading research and learning products and solutions at a discount rate here. Use these tools to expand your professional development, enhance your knowledge and increase your expertise on tax, accounting, financial and estate planning, audit topics and more.
Savings – The buying power of our association affords you special savings. In addition to local savings, you can also take advantage of savings from TXCPA.
LIVE WEBINARS
Fiduciary Income & Estate Tax Issues with Foreign Beneficiaries of Estates & Trusts - AUG. 12, 2021

Principles of Unrelated Business Income and Form 990-T Reporting Requirements - AUG. 18, 2021

The Balance Sheet: Reporting in Compliance with GAAP - AUG. 19, 2021

Mentoring to Increase Employee Retention and Diversity - AUG. 27, 2021

Partnership and S Corporation Tax Filing Issues after Tax Reform - AUG. 30, 2021

Click here to view more!
NEW SELF-STUDY COURSES
How to Bring a Whistleblower Claim
Post Death IRA Transactions
How to Avoid Common Peer Review Pitfalls
Nexus in the Post-Wayfair/Post-COVID World
Preparation of State Level Estate Tax Returns
Fringe Benefits
Click here
to view more!
---
For more information on Wolter Kluwer online classes and products, visit the Wolter Kluwer TXCPA Houston member benefits center.