Wolters Kluwer Member Benefits for SEPTEMBER 2021
Published on

Sep 7, 2021

by

User Not Found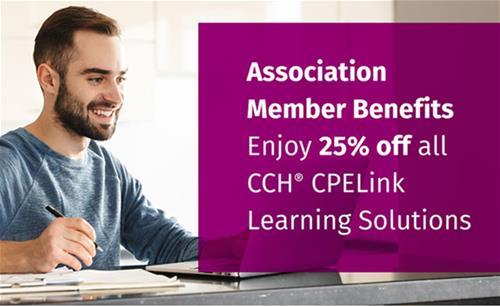 Take advantage of Wolters Kluwer's valuable industry-leading research and learning products and solutions at a discount rate here. Use these tools to expand your professional development, enhance your knowledge and increase your expertise on tax, accounting, financial and estate planning, audit topics and more.
Savings – The buying power of our association affords you special savings. In addition to local savings, you can also take advantage of savings from TXCPA.
LIVE WEBINARS
The Biggest Mistakes Made During Tax Season that Trigger IRS Enforcement! - SEPT 9
Tax Strategies for Passive Activities - SEPT 14
Final Pay, Reimbursements, & Other Paycheck Administration Pitfalls - SEPT 15
Reviewing Partnership Agreements to Identify Key Tax Issues - SEPT 20
Financial Reporting Tips and Tricks - SEPT 23
FASB's Big 3 Project Overview: Leases, Financial Instruments, and Revenue Recognition - SEPT 30
Click here to view more!
NEW SELF-STUDY COURSES
Mastering Audit Sampling
Transfer Pricing and the OECD Base Erosion Profit Shifting Initiative
Procurement Standards under Uniform Guidance
Click here
to view more!
---
For more information on Wolter Kluwer online classes and products, visit the Wolter Kluwer TXCPA Houston member benefits center.