Celebrating National Hispanic Heritage Month - SEPT 15 - OCT 15
Published on

Sep 15, 2021

by

User Not Found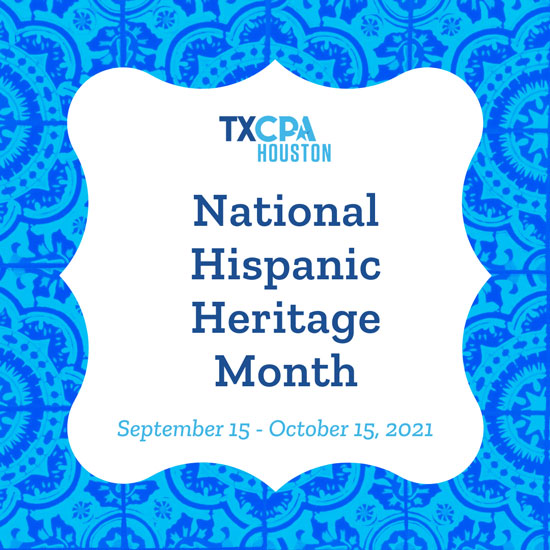 Since 1988, the United States has observed National Hispanic Heritage Month annually from September 15 through October 15, by celebrating the histories, cultures, and contributions of American citizens whose ancestors came from Spain and Latin America (Mexico, the Caribbean, Central, and South America). TXCPA Houston values the rich cultures Hispanics bring to the profession.

As we celebrate National Hispanic Heritage Month, we say thank you to the following members/contributors who have given their talents to support TXCPA Houston and advance the profession.
TXCPA Houston Past Presidents:
David Acosta, CPA (President, Acosta Forensic Accounting Group PLLC)
TXCPA Houston Board of Directors:
Rolando Garcia, JD, CPA (Shareholder, DoerenMayhew)
TXCPA Houston Members & Contributors:
Vanessa Sola (Partner, Frierson Sola Simonton & Kutac PLLC)

Rene Lozano, CPA (Shareholder, Lozano CPA, P.C.)

Freddy Garza, CFP® (Wealth Advisor, Northern Trust Corporation, Co-chair PFP Conference)

Ramon Fernandez (University of St Thomas Professor; TXCPA Houston Faculty Ambassador)

Ray J. Fernandez, Jr., CPA/PFS, CFP® (Managing Director, Wealth Advisor Cresset Management, LLC; PFP Committee)

Diana Castro, CPA (Goodman Financial; CPAs Helping Schools Committee, former TXCPA Houston Board of Directors)

Oscar Gutierrez, CPA (Former HCC/Medicare Committee member)

Guadalupe Garcia, CPA (Audit Partner, Whitley Penn Partner; former TXCPA Houston Board of Directors, former Audit Committee, Chair)

Wendy Pineda (Manager of Client Accounting Advisory, DWG CPA PLLC; Accelerate alum)

Ruben Rodriguez Jr, CPA (Sr. Manager International Tax, RSM; Accelerate alum; 2016 TXCPA Rising Star)

Gabriela Ortega-Moore, CPA (Bilingual Senior Tax Accountant, DoerenMayhew; Accelerate alum)

Mary Torres (Tax Shareholder, DoerenMayhew; Accelerate alum)

Melisa Hernandez, CPA (Tax Manager, Briggs & Veselka; Accelerate alum)

Liboria Chavez (Tax Management Consultant, Deloitte; Student Auxiliary)
---
TXCPA Houston values the diverse contributions and talents of all its members. We are committed to promoting diversity, equity, inclusion, and a sense of belonging in the workplace, in membership, and in the accounting profession. Diversity includes, but is not limited to, race, gender, generations, abilities, orientation, and religious beliefs. If you would like to help TXCPA Houston advance diversity, equity and inclusion initiatives, contact Mark Allen, TXCPA Houston executive director, for information.