CPAs Helping Schools 25th Anniversary - NOV. 8, 2021
Published on

Nov 1, 2021

by

Carol Spencer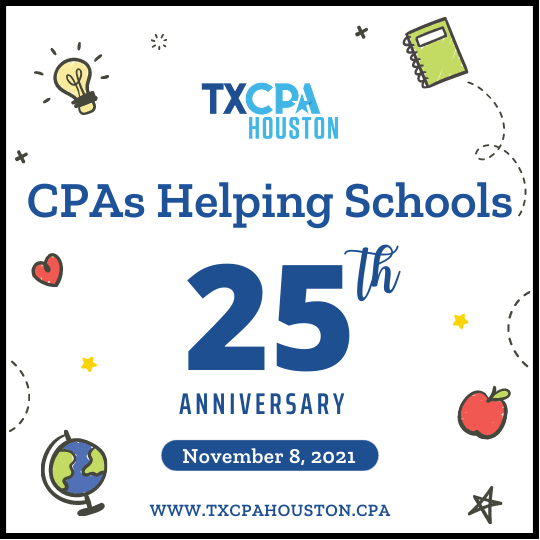 Fall is in the air – high school football, weekend sports, local bazaars, pumpkin lattes, fundraising galas, and more! November is the time for volunteers to review grant applications for local grades PreK-12, and in 2021, it marks the 25th anniversary of an established endowment for grants.
On November 8, 1996, TXCPA Houston Past President Stanley H. Voelkel and Margaret D. Voelkel established an endowment. The endowment's income assists disadvantaged school children by providing funding for different activities. The donors tasked the CPAs Helping Schools Committee with the program's administration.
CPAs Helping Schools provides funding to local districts for educational projects, emphasizing aid to those schools with little or no local business support. Grants are often approved for math and technology programs, for nonfiction library books to replace outdated selections, and other educational programs to encourage today's young learners to become tomorrow's leaders.
Librarians often request funding for Makerspace/ Lego activities in elementary schools, and science teachers need financial assistance for middle school robotics teams. Since 2002, committee members have reviewed over 600 grant applications, helping to establish over 300 projects through financial grants. They have provided over $600,000 to more than 200 schools in 35 local districts.
Schools within the TXCPA Houston membership area in the following counties can apply for the grants: Austin, Brazoria, Colorado, Fayette, Fort Bend, Galveston, Harris, Montgomery, Polk, San Jacinto, Trinity, Waller, and Walker.
A campus can receive up to $5,000 per school year through a grant. The committee strives to award funding close to $1,500 per school to initiate a program to maximize student outreach.
CPAs Helping Schools' Committee engages with schools during four key touchpoints:
In November and May, the committee reviews grant applications.
Within 90 days of the application review, selected schools will receive grant funds.
Volunteers schedule follow-up visits at the schools to see the established program in action.
In January, grant recipients are invited to a Partners in Education reception to share program updates.
Is there an educator in YOUR life? Do you have connections with a school administrator? Be a part of this 25-year program by sharing the opportunity, serving on the CPAs Helping Schools Committee, or contributing to the program.
APPLY FOR GRANT

DONATE HERE

VOLUNTEER HERE
Thank you, members, for your support of local education. A special thank you to Stan and Margaret Voelkel for their vision and action in 1996!
Originally published in the TXCPA Houston's Online Magazine called the Forum. Read the full magazine here.
---
Carol Spencer is the membership manager at TXCPA Houston.