Close out 2021 with Year-end Giving!
Published on

Dec 13, 2021

by

Carol Spencer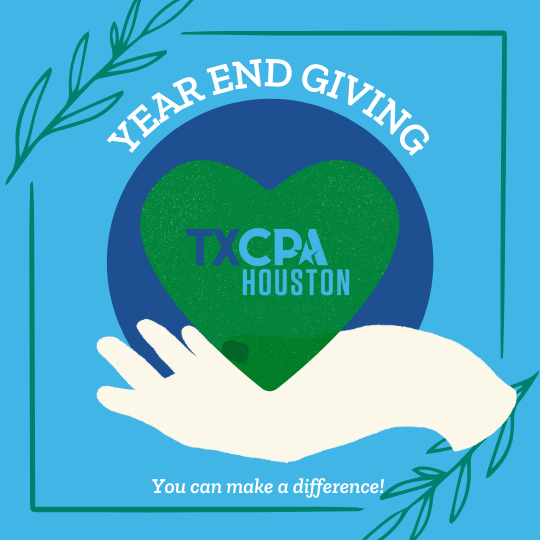 University Students
Opportunity does not always come knocking. You must get up, search for your future, and move mountains to realize your dream.
Many scholarship applicants fit into this mold. They come from humble beginnings and know they want to make a difference in the lives of their families, their communities, and their chosen profession. For most students, finances are a constant worry. TXCPA Houston Foundation continues to help as many Houston-area students as possible.
You can help them realize their dreams and become established members of the accounting community. The TXCPA Houston Accounting Scholarship Committee realized a change was needed to fulfill the needs of local accounting majors as they work towards the 150 hours required to sit for the CPA exam. In 2022, scholarship recipients graduating in December 2022 will receive $2,500 for the Fall semester tuition. Scholarship recipients who are graduating in Spring 2023 will be granted $5,000 for two semesters. These funds allow students to reduce their workloads and concentrate on their studies to obtain their master's degrees.
Elementary & Secondary School Students
CPAs Helping Schools Committee provides funding to local campuses, grades PreK-12, for funding of educational programs, with a focus on reading and STEM/STEAM. Committee volunteers review grant applications in December and April, with final approval granted by the TXCPA Houston Board of Directors. Schools receive funds for the following semester and provide feedback and success reports to the committee.
Make your year-end holiday gift to one, or both, of the charitable entities of the 501(c)(3) Houston TSCPA Foundation. Tomorrow's business leaders and potential employees will thank you for your support. Click here to donate funds online or mail your check to TXCPA Houston Foundation | 777 Post Oak Blvd Suite 500 | Houston, TX 77056.
For information on either program, contact Carol Spencer at cspencer@txcpahouston.cpa.