TXCPA Houston CPA-PAC Legislative Update - MAR. 21
Published on

Mar 1, 2022

by

User Not Found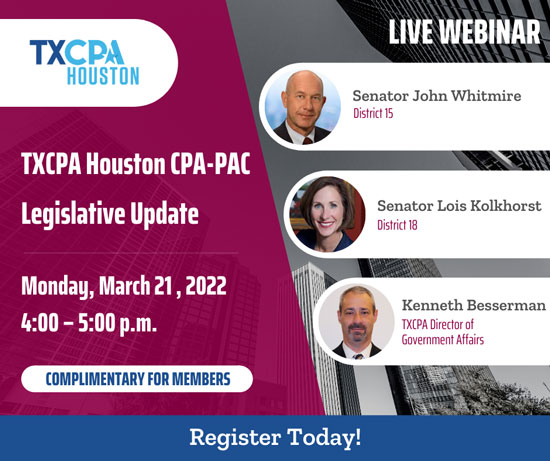 PAC. Do you cringe, turn away, or just keep scrolling past when you see that acronym? What is so intimidating about a political action committee?
PAC isn't just about contributions or candidate support, but about the issues and how to improve working relationships between legislators and the public. Many bills that will be discussed at the Texas State Capital in 2023 impact business professionals, business entities, and your clients.
Kenneth Besserman, TXCPA Director of Government Affairs, will open the discussion with a fifteen-minute update on major expected legislation, followed by two local senators sharing their thoughts on priorities in the upcoming 88th Texas Legislative Session.
Senator John Whitmire, District 15
Senator Lois Kolkhorst, District 18
The senators will share the virtual podium and offer their thoughts before they answer your questions.
Save the date for the June 1 lunch meeting. See the PAC process in work as committee members discuss TXCPA's recommendations for campaign support. YOU HAVE A VOICE, and we want to hear it!
To learn more about the TXCPA Houston CPA-PAC, or to join the committee, contact Membership Manager Carol Spencer, cspencer@txcpahouston.cpa.