Wolters Kluwer Member Benefits for April 2022
Published on

Apr 11, 2022

by

User Not Found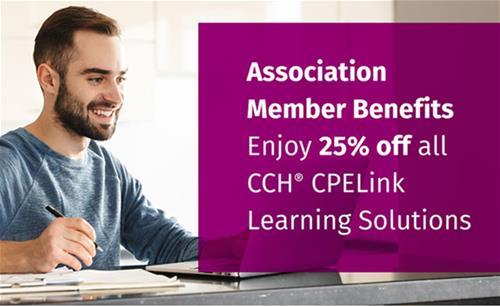 Take advantage of Wolters Kluwer's valuable industry-leading research and learning products and solutions at a discount rate here. Use these tools to expand your professional development, enhance your knowledge and increase your expertise on tax, accounting, financial and estate planning, audit topics and more.
Savings – The buying power of our association affords you special savings. In addition to local savings, you can also take advantage of savings from TXCPA.
LIVE WEBINARS
April 18, 2022 - Social Security and Medicare Planning Quarterly Update (Spring 2022)

April 22, 2022 - Section 199A Qualified Business Income

April 27, 2022 - Auditing Standards for CPAs: Spring Update

April 28, 2022 - Monthly Tax Update (April)

April 29, 2022 - Tax Implications in a Remote Work Environment: State Tax Nexus and Income Tax Issues
Click here to view more!
NEW SELF-STUDY COURSES
International Considerations for Not-for-Profit Organizations
Yellow Book Ethics
Business Valuations: Market Approach
Accounting and Financial Reporting Considerations Related to COVID and the Economic Downturn
Click here
to view more!
---
For more information on Wolter Kluwer online classes and products, visit the Wolter Kluwer TXCPA Houston member benefits center.