Wolters Kluwer | Hot Topic Webinars for May 2022
Published on

May 12, 2022

by

User Not Found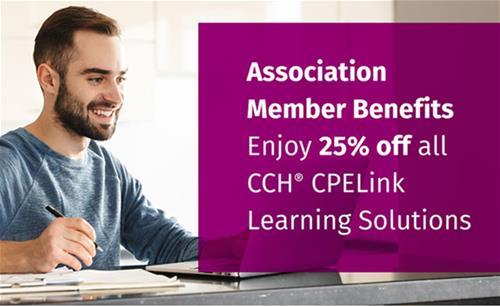 Take advantage of Wolters Kluwer's valuable industry-leading research and learning products and solutions at a discount rate here. Use these tools to expand your professional development, enhance your knowledge and increase your expertise on tax, accounting, financial and estate planning, audit topics and more.
Savings – The buying power of our association affords you special savings. In addition to local savings, you can also take advantage of savings from TXCPA.
LIVE WEBINARS
May 16, 2022 - Tax Strategies for Partnerships Part 4: Maximizing the QBID and Minimizing Self-Employment Taxes

May 18, 2022 - 2022 Accounting & Auditing Mid-year Tune-up

May 19, 2022 - Handling an IRS Collection Case: From Initial Call to Offer Acceptance

May 25, 2022 - Monthly Tax Update (May)

May 31, 2022 - Demystifying Accounting for Blockchain, Cryptocurrency, and NFTs

Click here to view more!
NEW SELF-STUDY COURSES
Real World Blockchain Applications
Form 1099 and Worker Classification Issues
Employee Fraud: Bid Rigging
Governmental Accounting and Auditing Update: GASB-87, Leases: An Overview for Lessees and Lessors
Click here
to view more!
---
For more information on Wolter Kluwer online classes and products, visit the Wolter Kluwer TXCPA Houston member benefits center.