Submit TXCPA and TXCPA Houston 2023-2024 Leadership Nominations by Aug. 15
Published on

Jul 20, 2022

by

User Not Found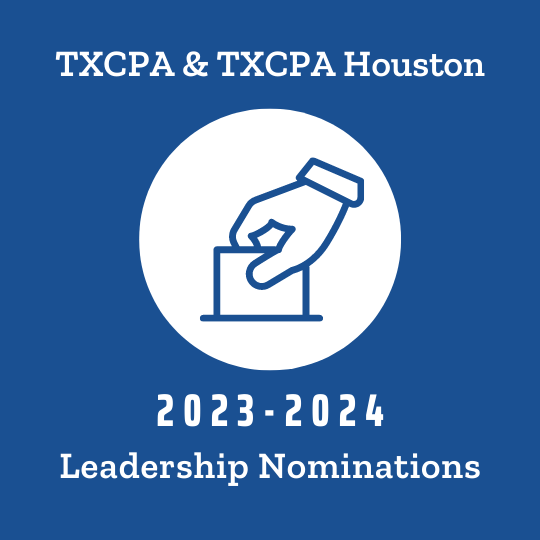 TXCPA is currently accepting nominations for the 2023-2024 membership year in the following TXCPA (State) positions: Chairman-elect; Treasurer-elect; Secretary; Executive Board; Board of Directors; Nominations Committee; and AICPA Council.
Click here for a full overview of State leadership nomination requirements including timeline, processes, and qualifications. Please keep in mind that TXCPA continues to strive for leadership that reflects the diverse makeup of members on all levels including gender, age, ethnicity, location, and industry type. Click here to nominate a member! The deadline for State nominations is August 15.
Nominate Peers for Chapter Executive Committee and Board of Director Positions
Nominate a colleague for an Officer or Director position on the Houston Chapter Board of Directors. Click here for an online nominations form. The deadline for Chapter nominations is August 15. Contact Mark Allen, TXCPA Houston Executive Director, for more information.