A note from Charlotte Jungen, 2022-2023 TXCPA Houston President
Published on

Jun 2, 2023

by

TXCPA Houston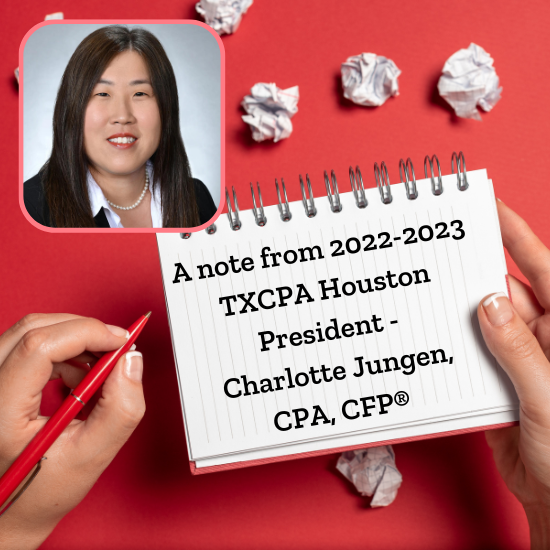 Dear Members,
As we close out our fiscal year, I wanted to thank you for allowing me to serve as your President this year. You, our members, are why we exist, and I hope that our dedication and passion to serve you was evident as we strove to deliver on our commitment to provide you the support you need to succeed in your professional endeavors.
This past year has been such a labor of love for me, allowing me to give back to an organization that has been there every step of the way for me throughout my career.
TXCPA was there for me as a student when they awarded me a scholarship.
TXCPA was there for me as a new staff accountant, helping me gain the confidence to walk into a room full of strangers and realize that these people who all seemed to know each other and who had way more experience than I did, actually would not just talk to me, but welcome me into their group.
TXCPA was there for me to help me develop my soft skills, providing me opportunities to develop and hone my leadership skills in a friendly, low pressure environment.
TXCPA was there for me as I advanced in my career and was looking for opportunities to grow my business network.
TXCPA was there for me when I needed to stay up-to-date on a topic or get introduced to a new area.
And if that wasn't enough, all along the way these past 20+ years, I've been able to develop lifelong friendships with so many amazing people. It's that sense of community and personal connection that TXCPA Houston provides that keeps me coming back all these years later. I encourage each of you to seek out more opportunities to make the most of your membership so that your membership experience is as rewarding and fulfilling as mine has been.
I wasn't alone in serving you this past year, and truly we could not have accomplished all that we did without the help of others. You had an incredibly skilled, passionate group of individuals stepping up to help us deliver on our commitment to you. I would be remiss if I did not give a shout out to all of them for their hard work this past year. I have so much admiration and gratitude for all of our volunteers who stepped up to take the time to give back to our profession with their time, talent and financial resources. A heartfelt thank you to all them – our committee members, committee chairs and vice chairs, our Board of Directors, our Executive Committee, and all who represented Houston at the state level. We are a stronger organization for you because of their involvement.
Thank you to our incredible staff members Mark, Kristie, Carol and Nicole for their attentiveness, commitment to excellence, and all they do for our members, day in and day out.

Thank you to each of you, our members, for choosing to belong to our organization. Thank you for seeking us out as a resource and for helping us thrive through your engagement in our events.

It is such a blessing to be able to be a part of an organization with members of your caliber and character. It was an honor to serve as your President.

With deep gratitude and a full heart,

Charlotte M. Jungen

TXCPA Houston President
2022-2023