November is TXCPA Month of Service
Nov. 1, 2019

#TXCPAservice
This is the perfect time to give back through personal volunteer service, with your firm or company or through your TXCPA chapter.
We look forward to seeing you serve and sharing the good work our members are doing in their local communities. Together we're better!
Use hashtag #TXCPAservice on your public social media posts so we can share your photos.
Looking for a service opportunity near you? Check out these plans from our TXCPA chapters: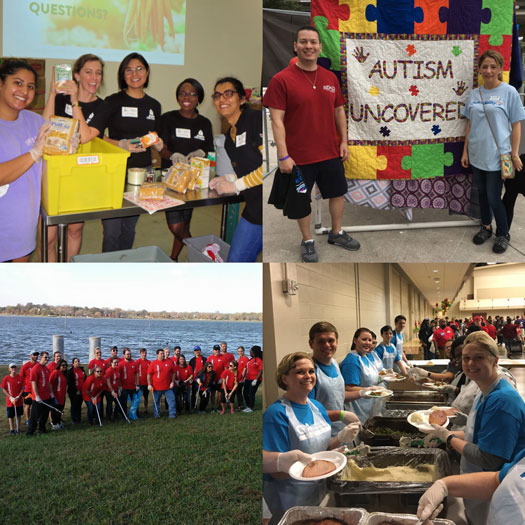 TXCPA Houston
Young professionals are offering two service opportunities this month:
Volunteer at The Center for Hearing and Speech on November 6 from 9 a.m. - 1 p.m.
(1417 Houston Ave, Houston, TX 77007-6237).
Register to volunteer.


Volunteer at the Houston Food Bank on November 9 from 8 a.m. - 12 p.m.
(535 Portwall St, Houston, TX 77029-1332).
Register to volunteer here.
TXCPA Permian Basin
Two volunteer opportunities scheduled for November:

Season of Sharing Food Drive benefiting the West Texas Food Bank, November 1-15
This is a great opportunity to give back to the community. Working together, we can help make the holidays brighter for families in the Permian Basin.

Drop-off locations:
Dutton Harris & Co CPAs PLLC (218 W Illinois Ave Ste 100, Midland, TX 79701)
Johnson, Miller & Co. CPAs PC (550 W. Texas, Suite 1000, Midland, TX 79701)
Johnson, Miller & Co. CPAs PC (2626 JBS Parkway, Suite A-200, Odessa, Texas 79761)
Shelton Herr Smith, P.C. (4840 E. University, Suite 110, Odessa, TX 79762 )
Weaver (400 West Illinois Avenue, Suite 1550, Midland, TX 79701)
Food items most needed include:
Canned Meat (Ham, Tuna, etc.)
Peanut Butter
Chunky Soups & Beef Stew
Macaroni & Cheese
Pastas & Rice
Dry or Canned Beans
Spaghetti Sauce
Dry Cereal & Oatmeal
Canned Vegetables & Fruits
100% Fruit Juice (Cans or Plastic)
Sugar Free Items
Low Sodium & No Salt Items

Food 2 Kids
West Texas Food Bank Odessa, November 12, 6-7:15 p.m.
411 S. Pagewood Ave, Odessa 79761
As a volunteer, you will pack bags of food to provide weekend meals for elementary children who might not eat between their school lunch on Friday and their school breakfast on Monday! Spouses/significant others and kids are welcome and you must wear closed-toe shoes. Support a great cause, have some fun and network with other TXCPAPB members!
Sign up to serve on November 12.
TXCPA South Plains
The chapter is collecting PopTarts at their September, October and November chapter meetings for the Food2Kids weekend food program. Volunteers will also serve at the Food2Kids warehouse on November 21 from 3 – 5 p.m. (12516 Chicago Ave, Lubbock TX 79424). Email the chapter for more details.
TXCPA Southeast Texas
The chapter has three service projected scheduled for TXCPA Month of Service:

Southeast Texas Food Bank - 2nd Saturday Family Box Day, November 9, 8:30 - 11 a.m.
3845 S. ML King Jr. Parkway Beaumont, TX 77705
Come help us sort food supplies at the Southeast Texas Food Bank. Volunteers must register before the event by visiting the Food Bank's website. The registration process is fairly straightforward. Under the section for volunteer groups, within the online volunteer application, you will find our group by searching "lu beta alpha psi." Once the application is completed, you will be emailed an activation link. After activating your profile, you will be able to sign up for the 2nd Saturday Family Box Day on November 9th. For assistance with registration, please contact Marylyn Byrd.

All volunteers for the warehouse must be at least 18 years old. Please note that 13- to 17-year-olds are welcome when accompanied by an adult, preferably a parent. Children, 12 and under, are not allowed to volunteer at the SETX Food Bank at this time and may not accompany anyone into the warehouse.

Some Other Place, November 15, 8 a.m. - 12 p.m.
590 Center St. Beaumont, TX 77701
Sponsor: Wathen, DeShong, & Juncker, L.L.P.
Come help us prep and serve lunch to those in need in our community. For additional information, please contact Marylyn Byrd.

LifeShare Blood Drive, November 21, 11 a.m. - 3:30 p.m.
3440 Eastex Freeway Beaumont, TX 77703
Sponsor: Edgar, Kiker & Cross, PC
Come help us save lives by donating blood. For additional information, please contact Marylyn Byrd.