Junior Duel in 'Ol San Antonio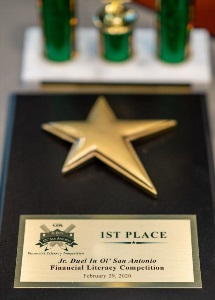 Since 2008, TXCPA San Antonio has offered area high school students the opportunity to participate in a financial literacy program teaching basic financial principals. Over the past 10 years, more than 5,500 students from 15 San Antonio high schools have participated in the competition.
During September through December teachers teach the program with support from CPA and CFP volunteers. Participating students receive a case study in January that requires a written presentation. Finalists are selected in February and oral presentations from the finalists are given in the spring. Prizes are awarded to the winners!
To ensure that Junior Duel in Ol' San Antonio continues to be successful, we need CPA and CFP volunteers, as well as sponsors.
If you are interested in sponsoring or volunteering, contact Jacqui.