Student Scholarship Is Here! Apply Now!
Published on

Feb 15, 2023

by

Javier Valdes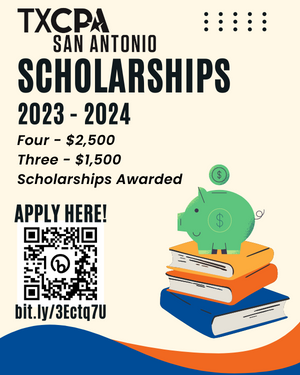 The San Antonio CPA CE Foundation Student Scholarship program provides financial assistance to junior, senior and Master's in Accounting students who plan to become Certified Public Accountants and enter the accounting profession
Award Amount: Up to four $2,500 and up to three $1,500 scholarships may be awarded annually at the discretion of the Scholarship Committee. Checks will be made payable to the university for the benefit of the student and mailed to the university, one-half payable in time for the fall semester and one-half payable in time for the spring semester (no exceptions to this schedule). If you do not plan to be enrolled at the designated university during both semesters, please do not apply. Decisions will be announced in April 2023.

Deadline: Received in the TXCPA-San Antonio office by Friday, April 7, 2023
Application Submission: Complete all application materials electronically to be received by Friday, April 7, 2023.
Eligibility Requirements: Eligible applicants must satisfy all of the prerequisites listed below.

1. Be a current TXCPA Student Member. TXCPA student membership is free. Contact Javi Valdes for details.
2. Be a junior or senior accounting major/graduate student in accounting attending a university in the San Antonio Chapter Area* for fall and spring semesters of academic year 2023-2024, planning to become a Certified Public Accountant and entering the accounting profession upon graduation.
3. Be a U.S. citizen or permanent resident (green-card holder).
4. Participation and involvement in TXCPA-San Antonio, including community service, committee meetings, attendance at events and the Young Accounting Professionals (YAP) will positively influence scoring.
Application Link: http://bit.ly/3EcSsUG
Incomplete or late applications will not be considered.
Eligible Schools:
*Our Lady of the Lake University
*St. Mary's University
*Schreiner University
*Texas A&M International University
*Texas A&M University – San Antonio
*Texas Lutheran University
*Trinity University
*University of the Incarnate Word
*University of Texas at San Antonio